Every founder hopes to launch the next unicorn startup. However, billion-dollar businesses usually require millions of dollars in funding to scale. Creating the best pitch deck possible could be the difference between fundraising success and failure.
A pitch deck is a critical tool in a startup's fundraising journey. However, not every pitch deck is equally effective. The best pitch decks strike multi-million deals, while the worst fail to capture investors' interest.
I'd bet that you've already searched on Google and realized that hundreds of presentation and pitch deck templates are available. However, when approaching investors, the goal is to stand out. Unfortunately, most pitch decks fail in the fundraising process. Instead of standing out, they blend into the crowd like a drop of water in the ocean.
By studying examples of successful startups that raised millions, you can learn what investors look for in the best pitch decks. In this article, we'll introduce you to 30 of the best pitch decks we've seen over the last few years. Furthermore, we'll explain why we believe they were successful and what you can learn from them.
1. Dropbox
Dropbox is a cloud storage service that lets you save files online and sync them to your devices. The platform makes it simple for users to share files and folders with others without attaching large attachments to an email.
The team introduced the product at Y Combinator's Demo Day in 2007. Since then, Dropbox has acquired hundreds of millions of customers. The company has also become an example of how to build a startup from the ground up.
The Dropbox team utilized its pitch deck to showcase its innovative product, explain its traction, and validate its business model. Investors quickly displayed interest, and Dropbox struck its first investor deal shortly after its Demo Day appearance.
The Pros of Dropbox's Pitch Deck
Dropbox's presentation may seem outdated compared to many modern pitch decks. It could use more graphic design, but the information is clear and presented in an easily digestible manner.
The use of the slide, "In a perfect world…" is unique and effective. With this slide, Dropbox connected readers to the problem and encouraged them to imagine life without struggling with digital storage issues. At the time, consumers weren't aware that one could have "your files available wherever you are, on any device." In 2023, this value proposition probably doesn't seem so unique.
Still, in 2007, forgetting your USB dongle at home was a thing of nightmares. It was impossible to access your files without having your physical drive handy. Ultimately, Dropbox changed how the world stores and shares files, and its pitch deck validates this point.
The Drobox pitch deck encourages engagement from the viewer by presenting questions like "Why Now?" and "Why Better?" The team identified which questions the audience was likely to ask. Then, the founders used the deck to take the viewer on a journey by answering their questions at the ideal moment.
Some may find these slides outdated, but we love the no-fluff approach that Dropbox took with its deck. The text is large enough to read, and each slide gets straight to the point. Every word has a purpose, and every sentence is intentional.
Dropbox's Lifetime Funding
The Dropbox team leveraged its pitch deck to raise a $1.2 million seed round in 2007. The company raised over $1.7 billion in funding over 11 rounds.
2. WeWork
WeWork is an American commercial real estate company that provides flexible shared workspaces for technology startups and other businesses. The company designs and builds physical and virtual shared spaces and offices for companies of all sizes.
Over the years, WeWork has suffered from a damaged reputation due to bad leadership and overfunding. However, its failures don't take away from its ability to rank in our best pitch decks list. The team produced several pitch decks since its earliest stages. However, its Series D presentation is a great example of showcasing traction and explaining future plans.
Why It's On Our Best Pitch Decks List
Unlike DropBox, WeWork's pitch deck is design-heavy with a modern aesthetic. The slides follow a predictable theme with a bold title, a short text blurb, and a simple but informative graphic. The color scheme (black and yellow) is consistent across every slide, which makes it visually appealing to the audience.
But when creating our best pitch decks list, graphic design is only one component. It takes skill to present this amount of information without overloading the slide. Yet, WeWork figured out the perfect balance to provide information while peaking the audience's curiosity.
Instead of "warming up" the audience, the team immediately gets to the meat of the presentation – traction. The Company Overview slide showcases their stats upfront, with impressive metrics that investors would find difficult to ignore. Few investors can look away when a company presents statistics like 109% CAGR and revenues of $121.4 million.
While visual aesthetic is less important than content, WeWork's design stands out. Every slide draws viewers in with complex information simplified through charts and familiar logos. The team slide is streamlined, showing authentic images of its founding members. If a picture speaks 1,000 words, it speaks a million in a pitch deck.
A Validated Hypothesis
The pitch deck tells the story of how work is rapidly shifting away from the office. Even before the pandemic, the founders realized that remote working was the future. Across multiple slides, WeWork showcases how millennials approach work differently, choosing freelance work and WFH options over the traditional office.
By the way, they were right – today, more people work from their homes and shared office spaces than ever before.
Although its technology is a massive part of WeWork's offering, the founders only gave the technology a single slide. The bulk of the pitch deck showcases the problem and details WeWork's plans for taking advantage of an emerging market opportunity.
WeWork's Total Funding
The founders raised $335 million in investor funding with its Series D pitch deck. In total, the company raised $4.45 billion over 11 rounds from 14 investors.
3. Copper Cow Coffee
It can be challenging to make coffee sound exciting when competing for capital against innovative tech startups. Copper Cow Coffee's pitch deck shows how it will innovate a market that has minimally advanced over the last several decades.
Copper Cow Coffee offers sustainably-sourced, all-natural coffee, sold in a kit that includes coffee and creamers. The company had humble beginnings but has expanded rapidly. CCC's products are now on the shelves of major retail stores, including Whole Foods, Walmart, H-E-B, and Sprouts.
Despite the rapid success, Copper Cow Coffee's journey began with a simple but impactful 11-slide pitch deck.
Why It's An Awesome Pitch Deck
Entrepreneurs often overlook simplicity during investor pitches, but Copper Cow Coffee proved that less is more. For comparison's sake, there are more words in this paragraph than in the company's entire pitch deck. The team streamlined all the information into simple but powerful statements like "Craft coffee for anyone, anywhere."
Unlike other decks on this list, the founders didn't use complex graphs and charts to present information. Instead, they showcased the opportunity in a way that even a kindergarten student could understand. For example, the team used a few words to describe market size, not bar charts and line graphs. With the statement, "32 billion – American Coffee Industry," anyone could quickly visualize how large the market is.
Some would debate that Copper Cow's pitch deck is too minimal. However, when pitching an idea, you want the audience to pay attention to the presenter, not the slides. Copper Cow used a minimal approach so audiences could grasp the concept of each slide without needing long text explanations.
Did Copper Cow Raise Funding?
Copper Cow Coffee participated in 500 Startups and raised over $1 million in seed funding. In total, the company has generated $11.5 million in investor funding.
4. Purple Go
(Click the image to view Purple Go's pitch deck)
Purple Go is an iPad-based platform that allows eyewear retailers to streamline online operations. The all-in-one platform automates tasks throughout the sales process, freeing up staff members and maximizing operations efficiency. Although Purple Go serves a niche and uber-targeted audience, startups can learn a few lessons from their pitch deck.
Pitch Deck Highlights
Purple Go utilized a sleek design and approach, telling its story with simple statements and highly-focused slides. While most startup pitch deck templates suggest a Problem Slide, Purple Go decided to forego this recommendation.
Instead, the deck tells a story of how Purple Go's clients feared the impact of tech-enabled competitors. But, by adopting Purple Go's mobile-connected stores, they multiplied their revenue by up to 10x.
The pitch deck includes several Solution slides, but they don't display every feature. Each slide displays a short statement with a visual that explains how the product solves the customer's problem. Phrases like "Cut Time to Sale in Half" explains the value proposition without using bullet points or paragraphs. The slides focus on the specific functions that heighten the value proposition without wasting space on less impactful features.
The team proves its Traction with a few hard-hitting statistics, such as "Pilot Store – $150k Annual Revenue." Purple Go gives the audience the "what" of the solution but gives room so the presenter can fill in the blanks.
Did Purple Go Raise Funding?
With this pitch deck, The Purple Go team raised $150,000 in seed funding from 500 Startups.
5. Blue Wire
Blue Wire is an audio-centric media company that hosts more than 120 podcasts with athletes, influencers, and professional sports franchises. The founders recognized that millennials preferred digitized media (like podcasts) over traditional sports radio. With only nine slides the company proved a growing need for its solution in the market.
Why Do We Love This Investor Pitch Deck?
This pitch deck successfully displays how sports fans' habits have shifted from one extreme to another. Specifically, Blue Wire explains how television loses 150,000 subscribers per month while podcasts have grown by more than 90 million listeners.
The team also proved its future potential by showing the combined follower numbers of its influencers. It also displayed logos from dozens of creators seeking to partner with the company. The deck validates a demand for the solution by showcasing notable statistics. For example, the brand received 2.5 million listens over 11 months and doubled its user base monthly.
The Company Raised HOW MUCH!?
Using this pitch deck, the company raised $150,000 in pre-seed funding. To date, Blue Wire has raised $9.9 million in funding from angel investors and venture capitalists.
6. SnapChat
It seems like Snapchat has been around forever, but it launched just over a decade ago. In 2010, it was just a new social media platform hoping to find its first capital partner. The company had a great concept, a cult-like following, and clear competitive advantages. The company had many positives, but the team still needed a stand-out pitch deck to capture investor attention.
About Snapchat's Startup Pitch Deck
Pitch decks have many use cases outside of impressing investors. For instance, Snapchat created a sales deck to reach brands with its advertising and marketing services.
The Snapchat pitch deck sacrifices a title slide to get right to the value proposition. It opens with a bold and confident statement, "Snapchat is the best way to reach 13 to 34-year-olds." This statement immediately draws advertisers' attention – especially those targeting young millennials. The risk of grabbing viewers' attention with this approach is that after making the statement, the next slides must prove it.
Snapchat validates its opening statement on the following slide. The team added a message that explains its penetration level for its targeted audience. The slide reads, "More than 60% of 13 to 34-year-old smartphone users are Snapchatters." Then, it follows up with another intense metric – "2+ billion video views every day on Snapchat."
There are several lessons you can take away from Snapchat's pitch deck. First, eliminate the fluff and focus on meaningful statements. Fill your deck with strong statements that captivate your audience and back those statements with accurate data and actual metrics.
The Sales Deck Impact
The sales deck set the foundation for Snapchat's advertising services. The company now earns more than $2.62 billion in advertising revenue each year.
Snapchat's sales deck did not influence its fundraising activities. But in case you wondered, the company has raised more than $4.9 billion in investor capital since its inception.
7. Peloton
The home fitness equipment industry continues to reinvent itself with new equipment and products. From ab stimulators to workout video series, there's always some new brand claiming to help you achieve your dream body.
However, in 2012, Peloton launched as an innovator in the fitness hardware and technology spaces. The company combined traditional fitness equipment with modern tech solutions. Its solution includes internet-connected stationary bikes that enable subscribers to participate in at-home classes through streaming media.
How Peloton Made Our Best Pitch Decks List
The Peloton team knew that its product wasn't for every person interested in fitness. With a high price tag, Peloton's customers meet a specific demographic, lifestyle, and income bracket.
The Customer slide outlines Peloton's ideal customer. These consumers are high net worth, married, and already spending more than $150 per month on fitness. Peloton customers earn a high income and are willing to use their disposable income to achieve their fitness goals.
Peloton's investor deck shows that the team has deep knowledge of competitors. The team used several slides to explain its competitive advantages over other brands. Statements such as "We are not a gimmicky fitness brand" make a huge impact. The simple sentence puts distance between the brand and those with laughable fitness products (yes, I mean you, Shake Weight).
The pitch deck refutes viewers' objections immediately and removes the "bad product" stigma often associated with fitness products.
The Venture Capital Raise
Peloton raised $400,000 from investors in the seed round. In a later round, they used their Series A pitch deck to raise $3.5 million. Throughout its lifetime, the company raised $1.9 billion, participated in six acquisitions, and went public (2019).
8. Transferwise
Transferwise (now called Wise) launched in 2010 and emerged as a leader in global payments. Wise, a money transfer platform, allows individuals to send money overseas quickly. The founders realized that millions of people around the world faced high fees for remitting money. By solving this issue for millions of people worldwide, the company earned billions of dollars.
What Stands Out in Wise's Pitch Deck?
We gave praise to some earlier examples for their minimal approach to text and design. However, we believe Wise has the perfect amount of text for each slide. The deck provides enough information to understand the concept without overloading each slide.
The How It Works slide clarifies how easily users can send money using the platform. In this slide, Wise simplified the remittance process into four steps.
Wise simplified its Competition slide by listing each competitor category and the companies within each group. This approach allows the founders to explain each competitor group during the pitch, instead of comparing each individual company.
How Much Did Wise Raise?
Wise has one of the best seed pitch decks among the unicorn startups of the last decade. With this deck, the company raised $1.3 million in seed funding from IA Ventures and Index Ventures. To date, the company has raised over $1.3 billion from investors.
9. Kickfolio
Kickfolio (now App.io) launched with an innovative marketing tool that allowed iOS applications to run in the browser using HTML5 technology. The technology helps brands promote their applications, find new users, and engage their audience with an interactive application demo.
What Can You Learn From This Pitch Deck?
This pitch deck is an excellent example of how a brand can use visuals to engage viewers with its story. Instead of explaining the solution with bullet points, the team uses product images to demonstrate its functionality. For instance, Kickfolio showcased its traction with a simple but large graph. The team strengthened the slide by explaining user engagement, with a statement that says, "2000+ signups in 6 weeks."
The company also added real reviews to the pitch deck so investors could see its value proposition in action. By doing so, Kickfolio made it clear how the solution impacts the lives of actual users.
How Much Capital Did They Raise?
With a world-class pitch deck, the founders raised $1.2 million in seed funding from investor partners.
10. Alan
Alan is a unique and innovative digital health insurance platform. The company improves the health insurance process by focusing on the user experience and providing cost-affordable plans. The team successfully established the business as an insurance company by providing top-level customer service and a competitive product.
Here's Why We Love This Deck
To be clear, Alan's pitch deck is more than double the length we'd recommend to our clients. Despite the length, several qualities stand out.
First, the visual presentation is masterful. When it comes to presenting a heavily designed pitch deck, Alan is a great model to follow. Alan's branding is strong and consistent throughout the deck. It utilizes the brand's colors and maintains a theme that draws viewers into the presentation.
Alan's deck begins with an elevator pitch, allowing the audience to understand its product offering immediately. The team also added a slide that explained their purpose for raising Series A funding. With the funding, they plan to expand in Europe and transition into a healthcare platform.
We've seen the minimal approach used in several other presentations. Alan definitely did not take this approach. The deck is longer than we recommend, but it gives enough information to stand alone without a presenter. Still, the length of the deck would bore the audience during a live investor pitch.
Alan's Series A Round
The company raised €23 million during its Series A round. In total, Alan raised over $558.2 million from angel investors and venture capital firms.
11. Castle
Castle is an innovative and process-shifting real estate solution for rental property owners. Castle operates under a memorable slogan that reads, "Put Your Properties on Autopilot!"
Ultimately, Castle exists to help owners manage properties without the common landlord headaches. Since Castle serves a niche target market, likely, you've never heard of them. However, its pitch deck has several shining qualities that any founder can learn from.
What Can You Learn From Castle?
Castle's presentation is a great example for founders wondering what a great pitch deck looks like.
The design is modern and exciting, utilizing a constant theme, graphics, product images, and icons. The icons highlight each point, bringing the viewers' eyes directly to the most critical points of each slide.
Castle's format is similar to most pitch deck templates. However, the pitch deck uses this familiar structure to its advantage. The startup immediately showcases the primary customer problem. They present a problem statement that reads, "Rental property owners want to make money without the work of being a landlord."
Each subsequent slide enhances the overall story and gives the audience another layer of information. The flow leads to a concise elevator pitch – "Automate landlording through software and on-demand labor."
What lessons can your startup take away from Castle's pitch deck? The best pitch decks don't just present data and statements. Instead, they present the right information at the right time to support the story and capture viewers' attention.
Did Castle Raise Funding?
Since its inception, Castle has raised $3.3 million in seed funding from angel investors and venture capitalists.
Adpushup is a successful startup that streamlines the process of optimizing ad placements. The solution enables publishers to improve ad performance by testing different ad placements, sizes, and types. While the design of this sample pitch deck is minimal, the information the team presented was critical to its funding success.
What We Like About Adpushup's Slide Deck
Many entrepreneurs believe revenue is the only attractive metric, but Adpushup proved that other metrics are equally important. For example, the Traction slide validates its rapid growth, using impressions as a metric. This metric enabled them to prove a high demand within the market, even though the business hadn't earned any revenue.
In addition to describing prospective customers, the deck displays the solution's impact through existing customer experiences. It includes a case study showing its product's effectiveness in a real-world scenario. Social proof isn't just gold for attracting potential customers; it also helps to sell your pitch to investors.
Did Adpushup Raise Seed Money?
Since its inception, Adpushup has raised approximately $632,000 from partnered investors.
13. LinkedIn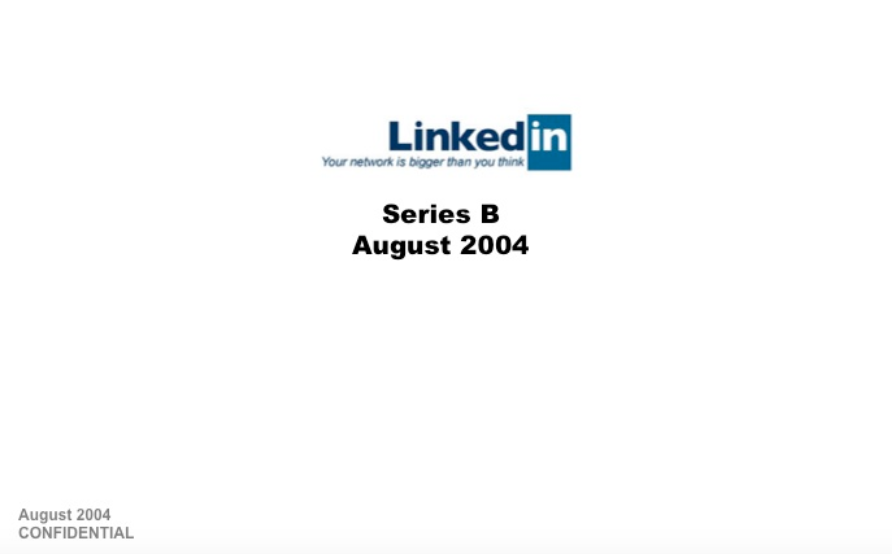 (Click the image to view LinkedIn's pitch deck)
The LinkedIn Series B pitch deck is ancient compared to others on our list. Still, it's excellent study material for startups looking to develop a compelling investor pitch.
LinkedIn launched during the social media craze, when many new social network platforms entered the market, and competition peaked. As a result, LinkedIn took a different approach and established a notable unique selling proposition by serving a professional audience.
LinkedIn's deck uses too much text to compete with modern seed round pitch decks. However, it is a fantastic example of how a seed round pitch deck may differ from a later round deck.
The Takeaway for Social Media Startups
Seed-round startups should refrain from using as many slides as LinkedIn used in its pitch deck. For seed-round startups, brevity is critical to success. However, in later rounds, more robust decks are often necessary.
By its Series B round, LinkedIn had members, user engagement, referral metrics, case studies, and a revenue plan. The company had to translate all of these accomplishments into a digestible pitch deck.
Since LinkedIn already had investors' attention, it didn't face the same restraints as a new startup. New startups have to earn the audience's attention. Investors won't give them the same attention as a later-stage startup with a notable reputation.
In terms of content, LinkedIn's pitch deck clearly defined its priority – establishing the network. Furthermore, it explained why this task is critical to achieving its growth objectives. Winning pitch decks identify how the team will utilize the investment to progress, scale, and expand the business and its success. The deck also showcased significant traction, showing how the company's actual growth and user engagement far out-scaled projected metrics.
How Much Capital Did LinkedIn Raise?
LinkedIn raised $10 million from Greylock Partners during its Series B round. Over its lifetime, LinkedIn raised over $154.8 million in investor funding. The company grew its valuation to $352.8 million by the time it went public in 2011.
14. Canvas
Canvas provides a business solution that allows corporations and organizations to digitize their paper assets. The solution aims to eliminate paperwork by transitioning business processes through mobile applications.
We selected Canvas as one of the best startup decks because of how it used imagery to draw the audience's attention.
What Caught Our Eye About This Investor Deck?
Canvas starts its deck with simple visuals that explain how the world has moved from analog to digital. For instance, books changed to eBooks, and CDs transitioned to MP3s. Now, according to Canvas, document storage will shift because of its solution.
In the next slides, the company expresses the top five most significant issues faced by companies with paper-based processes. With this approach, Canvas shows the audience's specific challenges. Furthermore, it proves that the time is right for a new solution to enter the market.
We also appreciate Canvas's Competitive Landscape slide. Most startups use a table with checkmarks. In contrast, Canvas compares the approach of its solution against competitors. According to the deck, competitors focus on the what, while Canvas focuses on the why.
Canvas Raised How Much!?
Canvas's pitch deck and investor pitch proved successful. As a result, the company raised $24.1 million in investor funding.
15. SickWeather
Sickweather is an app that analyzes data to predict and forecast population health. The app claims to accurately predict illness outbreaks 91% of the time and two weeks before the CDC on average. Sickweather's sample pitch deck explains the importance of trust and credibility. These factors are especially critical when your clients are some of the most respected brands in the world.
Sidenote: Sickweather became even more relevant after the pandemic. In April 2020, the company launched a COVID-19 scoring feature, becoming a leading predictor of which cities would experience COVID outbreaks.
Sickweather's Pitch Deck Takeaway
The first thing that caught our attention was the addition of a video on one of the slides. Shorter videos work well during a live pitch, while long videos can help enhance the deck during the introduction stage.
Early in the deck, Sickweather lists previous and existing clients. The mentioned brands are well-known and credible, immediately giving the startup a high level of authority. Furthermore, the team used visual graphs to showcase impressive monthly recurring revenue growth.
Lifetime Capital Raise
Sickweather has raised $2.6 million in investor funding since its inception.
16. Match Box (Tinder)
Match Box is the original name for Tinder, a dating app used by millions of people worldwide. Even with many competitors, Tinder overtook the market by implementing a gaming aspect to its platform. Instead of just adding friends, individuals could swipe left or right to express interest in another user. Match Box's startup deck is an excellent example of balancing creativity and simplicity to generate investor interest.
What We Like About Match Box's Pitch Deck
Match Box became Tinder, and Tinder went on to become the most successful dating app ever. However, success started with its pitch deck – and there are several reasons why the slides worked so well.
Match Box's slides are rather minimal compared to most startup pitch decks. However, it introduces a real-world scenario to explain the problems daters face (fear of rejection). The pitch deck uses each slide to tell a story, and half of the deck simply includes screenshots of the application.
The deck heightens its effectiveness by introducing the customer, showcasing their problems, and proving that the solution can solve the problem.
Finally, the last slide shows a transparent revenue model. Many dating apps struggle to generate revenue. But in its deck, Match Box showed how it would leverage its customer base to create several income streams.
Match Box's Lifetime Funding
In September 2016, Tinder received an investment of $1.4 million. Since then, the company has participated in three separate acquisitions.
17. Airbnb
If you're an avid traveler, it is probable that you have heard of or used Airbnb. Founded in 2008, Airbnb is a web service that allows people visiting other cities to book rooms from locals.
Airbnb provides a classic marketplace platform that enables renters and travelers to transact. For travelers, it provides a streamlined process to book a room or a property, often offering more amenities than a hotel. Property owners act as hosts on the platform, using Airbnb to find renters and earn income from their vacant properties.
With a compelling pitch deck, Airbnb conveyed its advantages against the competition and expressed its unique market position.
The Upside of Airbnb's Deck
First-time founders often focus all their attention on the presentation's design and visuals. Unfortunately, while the slides look great, they often lack the essential qualities of a good pitch deck. Over-designing can cause distraction and pull your audiences' focus to the wrong elements. As Steve Jobs once said, simplicity is the ultimate sophistication.
Airbnb's pitch deck is the perfect representation of effective simplicity. The deck successfully explains the customer problem (such as the price of hotels) and uses statistics to prove market potential. It defines the challenge entirely before beginning its introduction to the company's product, service, and feature offering.
Airbnb relies on technology to perform its service, but the deck only vaguely mentions the platform itself. One slide explains the technology, but the rest of the deck focuses on the market and the go-to-market strategy.
The founders represented the solution with only seven words – "Search By City. Review Listings. Book It!" Our team fell in love with this approach.
Commonly, entrepreneurs spend the entire pitch explaining the product itself. Yet, they don't spend enough time on the things important to investors, such as the strategy and ROI potential.
Airbnb – A Fundraising Success Story
Before this pitch deck, founders Brian Chesky and Joe Gebbia had no fundraising experience. However, even without expertise, they closed a $600,000 seed round led by Sequoia Capital. In total, Airbnb raised $4.4 billion over several financing rounds.
Need more information? Check out our full breakdown of Airbnb's pitch deck.
18. TeaLet
Tea is one of the world's most popular commodities. However, obstacles exist in the supply chain process, slowing down the transfer of goods from farms to individuals. Furthermore, the market relies on middlemen to distribute products, which drives up prices for the final consumer. As a result, tea farmers have to deal with low-profit margins, and consumers can't access high-quality tea options.
TeaLet exists to streamline the supply chain. The company directly connects tea growers with wholesale buyers and retailers using blockchain technology and a web-based application. As a result, TeaLet has tripled the profits for tea farmers while reducing consumers' prices for top-quality tea.
TeaLet's pitch deck enabled the team to achieve its objective of attracting and striking a deal with its first investors.
About TeaLet's Killer Deck
TeaLet's pitch deck immediately presents the most important information. The presentation starts by displaying its most vital metric – We've sold 100,000 cups of tea in 20+ countries. By quickly showcasing traction, TeaLet's pitch deck gives the team massive credibility. Furthermore, it grasps the audience's attention early on in the pitch.
One of our favorite qualities of this pitch deck is the use of hard numbers. The slides use hard numbers to prove the market opportunity. By showcasing market activities (such as acquisitions by similar companies), TeaLet creates FOMO among potential investors.
While content is more important than design, TeaLet's design theme stands out against many other startup pitch decks. It is rather design-heavy, but the visual adds drama to the message instead of distracting from it.
How Much Funding Did TeaLet Raise?
With a great product and a well-thought pitch deck, TeaLet secured a $240k seed round from angel investors.
19. Moz (SEOmoz)
Moz, formally known as SEOmoz, is a SaaS company that provides a suite of inbound marketing and SEO tools. Gillian Muessig and SEO influencer Rand Fishkin launched Moz in 2004 and transitioned into SEO SaaS software in 2008.
By the end of 2017, Moz served more than 36,000 businesses worldwide. During this period, users crawled more than 168 million URLs and researched over 4.3 million keywords.
Building a leading software solution like Moz is no easy feat. Nevertheless, Moz's founders created an impactful pitch deck that impressed investors and provided the capital needed to thrive and scale.
Why is Moz On Our Best Pitch Decks List?
Rand Fishkin has become the Michael Jackson of SEO. He is well-known as a marketing legend now, but he had to build his legendary status over several years. Moz's pitch deck explains where the business started and how Rand built the company from inception without outside funding.
Moz used its slides to explain how the founders leveraged free traffic through inbound marketing to build and expand the business. By showcasing its success with these methods, Moz validated its abilities since its software helps clients grow with the same techniques.
This pitch deck is longer than a standard startup pitch deck. However, when the team designed it, Moz had already completed an initial seed funding round and had significant traction. Therefore, in later series rounds, additional slides are often necessary to effectively showcase the growth of the business.
Did Moz Reach Its Funding Objectives?
A strong pitch deck and a validated product allowed Moz to raise $29.1 million over five funding rounds.
20. Front
According to its founders, Front is the "first inbox meant for teams." By using Front, organizations can organize emails, route them to team members, and maximize collaboration. The company launched in 2013 and quickly grew its dominance in the corporate email sector. Today, Front serves over 5,000 businesses and has more than 100 employees.
Explaining Front's Pitch Deck
The overall aesthetic of startup pitch decks has evolved over the years. Front introduced several elements that you likely won't find in older pitch deck examples (like Facebook or LinkedIn's deck).
For example, Front uses a plot graph to showcase how each competitor fits into the landscape. This graphic element is easy on the eyes and makes a complex concept simple to understand. The use of graphics continues with well-placed charts and graphs throughout the deck. Front showcased its traction and growth clearly while maintaining a minimal and clean appearance.
Front's Fundraising Outcome
Front's pitch deck enabled the company to reach its funding goals. To date, Front has raised over $79 million in venture funding.
21. Mixpanel
Mixpanel is an analytics provider that tracks and monitors web and mobile apps. Leveraging its toolset, app owners can compare new campaigns with A/B tests, execute user surveys, and build funnels.
The Pros of Mixpanel's Pitch Deck
This presentation made it on our best pitch decks list because of its simplicity. Compared to other pitch decks, it is relatively minimal and utilizes text more than visuals. However, in a time when most pitch decks are over-designed, Mixpanel's lack of graphic design stands out.
The founders created a great storyline within the deck that keeps viewers engaged. It begins by clearly stating the market's problems in a single sentence. Then, it explains the solution with minimal text.
With a dark non-distracting background and white font, the message is clear. Instead of cluttered slides with non-connected visuals and many ideas, Mixpanel's slides contain singular, focused, and notable concepts.
Mixpanel's Funding Rounds
The company achieved its financing goals and raised $77 million over five investment rounds.
22. Facebook
If you're old enough to remember the launch of Facebook, you might recall that it first launched as "thefacebook." Facebook is a social media platform that Mark Zuckerberg launched in 2004. Over the last 20 years, Facebook has grown to become one of the world's top-earning companies. The platform has billions of users and an estimated $140 billion valuation.
Pitch Deck Lessons for Social Media Startups
Since Facebook launched in the early 2000s, its pitch deck is now ancient. The startup landscape has significantly changed since Facebook's early days. Gone are the days when pitch deck slides included entire text paragraphs.
Still, Facebook's pitch deck accomplished its objectives. It showcased the features, explained the launch strategy, and presented traction. In addition, Facebook added a media quote on several slides that further validated its impact and showcased its rapid traction.
Facebook's Fundraising Success
Facebook raised over $1.3 billion before going public in 2012.
23. Buzzfeed
BuzzFeed is an industry-leading internet media, news, and entertainment company that has brought new trends to digital journalism. John Peretti founded the platform in New York in 2006, focusing on viral content like articles, lists, videos, and quizzes.
BuzzFeed exploded over its first few years and now hosts several brands, including Nifty, Goodful, As/Is, and Tasty. By 2018, BuzzFeed Video's YouTube channel had generated more than 13.8 billion views and 17.2 million subscribers.
The Best Aspects of BuzzFeed's Pitch Deck
BuzzFeed utilized screenshots of the platform throughout the deck, visually engaging viewers and investor audiences. The team used the designs to explain the solution and display important information, such as the revenue and business model.
In addition, the Competitive Analysis slide is exceptional. The slide shows how the company merges the benefits of the advertising and media sectors.
BuzzFeed's Lifetime Capital Raise
The BuzzFeed company raised over $496 million and has participated in five acquisitions since its inception.
24. Ooomf (Crew)
Ooomf launched in 2012 as an app discovery platform. After raising $500,000 in a seed round, Ooomf pivoted as a marketplace for digital freelancers.
Ooomf rebranded as Crew, the first marketplace where handpicked creators can work on the projects they love. Some of the world's largest companies like Apple, Google, Uber, and Dropbox have hired freelancers on Ooomf's marketplace.
Learning From Ooomf's Pitch Deck
Ooomf made our best pitch decks list because we appreciated its ability to tell a story with minimal text. Each slide is well-designed and suggests a single point of focus. The company used graphics to show the simplicity of creating a project on the platform. It also offers social proof by presenting direct quotes from the platform's freelancers.
Ooomf's Fundraising Activity
Ooomf (Crew) raised $9.9 million from 14 investors before participating in an acquisition by Dribbble.
25. Task.ly
Task.ly is a task management tool that helps professionals organize and manage their work lives. The app allows users to track project progress, collaborate with team members, and manage deadlines. The software aims to replace unorganized sticky notes, emails, and tracking docs with one simple-to-use platform.
Task.ly Pitch Deck Lessons
In our opinion, Task.ly's pitch deck is too long and includes too many slides. With 28 slides, it is more than double the recommended length for startup pitch decks. Fortunately, the team used only a few words on each slide. Therefore, viewers can still flick through the entire deck quickly without spending an excessive amount of time.
Every slide contains a graphic, but the screenshots, images, and icons support the story and enhance the overall investor pitch. Furthermore, the designers condensed the text into short statements – most slides have less than six words.
Lifetime Capital Raise
The company hasn't released any funding information, so we are unsure whether it raised capital and how much it raised.
26. Pendo
Pendo is a no-code platform that allows businesses to learn how customers behave while using a website or mobile application. By leveraging the solution, users can monitor page loads, clicks, focus points, and form submissions. Once the system collects enough data, it draws insights and makes suggestions to improve user engagement.
What Do We Love About Pendo's Pitch Deck?
As we explained previously, Series B pitch decks are often significantly longer than early-stage ones. By this stage, the business has covered more ground and achieved more milestones. As a result, Series B businesses must represent more information on their slides.
Regarding design, Pendo's presentation is one of the best pitch decks we've come across. Some of the most effective pitch decks lack visual appeal. Still, Pendo squeezed a tremendous amount of information into its slides without compromising the design. Furthermore, the company used visuals wisely by inserting graphs and charts to explain concepts quickly instead of relying on text.
Pendo's Fundraising Success
The team created several decks to raise $108.3 million over seven funding rounds. Furthermore, the company participated in two acquisitions.
27. Coinbase
The Contently solution strives to address the three critical elements of content marketing: strategy, platform, and storytellers. The platform makes content marketing manageable by combining an expert content strategy, a marketing services platform, and a global talent network.
The platform now serves over 200 enterprise clients, hosts over 140,000 creatives, and has paid over $40 million to its contractors.
Pros of Contently's Pitch Deck
This Series B financing deck immediately presents impressive statistics explaining an existing market problem – brands fail to achieve their marketing objectives. The pitch deck uses platform screenshots to showcase its effectiveness and displays client logos to validate its recent traction.
Contently's Fundraising Activities
With an excellent pitch deck, the founders raised $19.3 million in capital over seven funding rounds.
29. Yaydoo
Yaydoo is a procurement automation platform that allows companies to streamline their purchasing processes. With Yaydoo, businesses can negotiate with several vendors simultaneously and with one click. Furthermore, the platform enables these companies to save on recurring purchases and reduce their team efforts.
Why Do We Love Yaydoo's Pitch Deck?
Yaydoo effectively got its point across and validated the potential of its solution using only nine slides. The first slide is the most impressive, providing the fine details of the company's sales over two years. It also displays logos of previous clients to give the brand more credibility. With significant social proof, it is easy to understand the company's potential and ability to exceed customer expectations.
How Much Did Yaydoo Raise?
Yaydoo succeeded in raising seed funding. However, no public information is available expressing the amount of capital secured.
30. Backstartup
Backstartup is an all-in-one platform that allows startups and SMEs to manage their legal, accounting, and payroll processes easily. The founders launched Backstartup in Columbia in 2014, and the business now employs over 50 team members.
Lessons From Backstartup's Pitch Deck
Backstartup's investor pitch deck is another example of great design. The deck utilizes pops of color and well-designed visuals to engage the audience and pull them into the presentation. The deck begins by showcasing the projected market size. Then, it goes into the product and explains the company's traction.
The Backstartup team only used 11 slides to impress potential investors. Yet, each slide captures the details of the business with a consistent and visually appealing design theme.
Backstartup's Fundraising History
Backstartup held three funding rounds, raising a total of $905k throughout its lifetime.
Elements of a Fundable Pitch
Deck
Combined with an impressive pitch, a startup pitch deck is essential for successful fundraising. Great ideas with sloppy presentations that leave key questions unanswered usually fail in the fundraising process. To impress investors, brands need a proven idea, a confident pitch, and a memorable startup pitch deck.
Thousands of startups send their pitch decks to investors every day. In other words, if you seek investor capital, you'll need to stand out among the competition. Many startups add every detail they can fit in the deck. They describe the number of users, monthly growth, revenue, feature concepts, and more.
However, the best pitch decks provide an organized presentation with a story-like flow. They present the right information, in the optimal order, with supporting visuals that maximize impact.
Pitch decks can help you raise serious capital if done right. Some entrepreneurs utilize pitch deck writers to create the best presentations. But if you're creating your own deck or using a startup pitch deck template, there are some tips that will help. Check out the infographic below so you can create a pitch deck worthy of investment.